Product Information Double Bag Packaging Machine
The double bag packaging machine uses automatic application technology to pack products with 2 adjacent bags at the same time.
Introduction to the Double Bag Packaging Machine
In food manufacturing industries like instant noodles, the spice packages inside it usually have 2 or more packages. For production and user convenience, a double bag packing machine is used.
A conveyor belt will mark each pair of packages and deliver it to the filling filling head. At the top of the pouring machine, there will be 2 nozzles to put ingredients into 2 bags next to each other and move to the packaging process.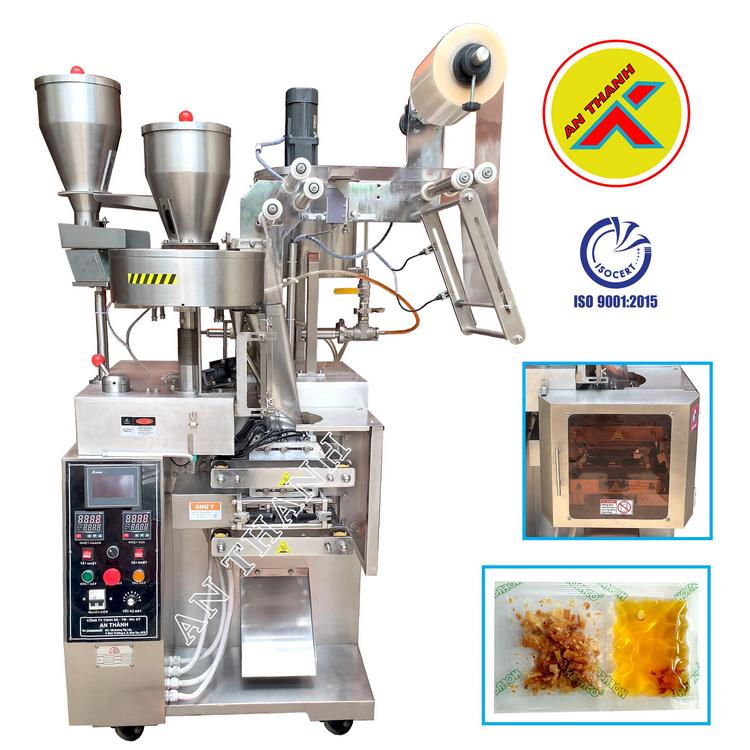 Benefits of using Double Bag Packaging Machine
Using Double Bag Packaging Machine will help a lot in improving production productivity:
Create high productivity with outstanding capacity, pre-programmed construction and performance.
Continuous operation in the production process, rhythmically and accurately, ensuring a low rate of defective goods.
Designed with high standards of foreign engines and components.
Using the packaging machine helps to easily manage labor, save time.
Advantages of An Thanh Double Bag Packaging Machine
Raw materials are made of stainless steel 304, hygienic, ensuring food safety when packaging.
The details are manufactured on CNC machines with high precision in each detail.
Manufacturing and assembling equipment according to international standards.
PLC controller for high accuracy, fast and efficient, minimizing defective products.
The machine can pack a variety of products, especially products in the form of powder, granule, liquid, … which are difficult to pack.
The machine has a simple structure, operates according to an automatic mechanism, does not use too much time, packs fast packaging, outstanding capacity, makes packaging and collage accurately.
Continuous, rhythmic and precise operation, ensuring a low rate of defective goods.
Machine design is packed with high standards of foreign engines and components.
Small machine size, not taking up too much area, suitable for small and medium-sized factories and enterprises.

Experiment with us by contacting our technical team.See more product here.