Product Information Cake Packaging Machine
Cake packaging machine is a specialized machine in the industry of packing and preserving cakes in all shapes and sizes, ensuring to bring the best products to consumers.
Application and characteristics of cake packaging machine
Application:
Cake packaging machines are widely used in the packaging of cakes and block products such as: Biscuits, muffins, bread, chocolate bars, …
Characteristics
The cake packaging machine enhances the aesthetics of the finished product and ensures that the product quality is not affected by exposure to air.
Cake packaging machines are very diverse, there are many types and suitable for the needs of each different product in production.
Like other packaging machines, the cake packaging machine is suitable for businesses from small to large scale.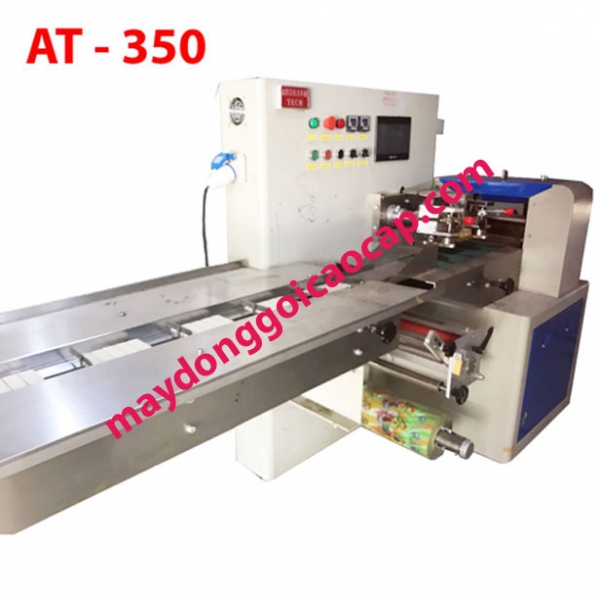 The benefits of cake packaging machines
Cake packaging machines bring many unexpected effects to manufacturing businesses:
Cake packaging machines ensure the quality of finished products during production and distribution to consumers.
The cake packaging machine enhances the aesthetics of the product and attracts and stimulates customers to use the product.
Cake packaging machine to bring the confectionery manufacturer's brand name to the customer – A very close and practical brand marketing form.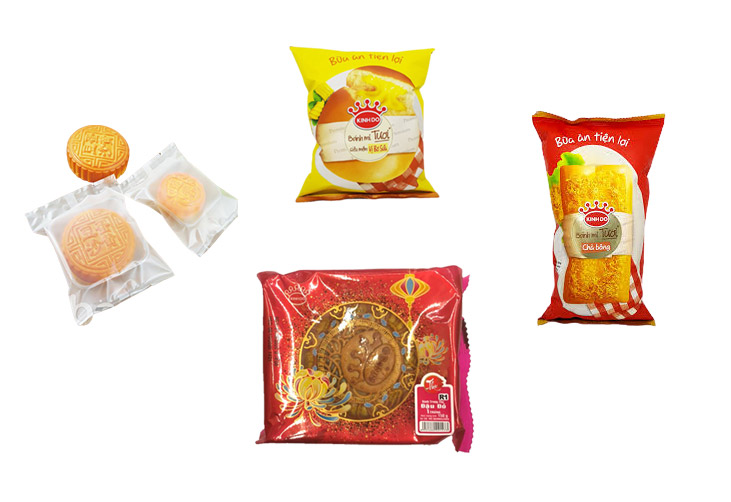 What is outstanding about An Thanh cake packaging machine?
An Thanh Trading-Service and Technology Co., Ltd is a leading company in the packaging machine field in HCMC market. Especially the cake packaging machine. An Thanh cake packaging machine is highly appreciated by many manufacturers because of the following outstanding advantages:
An Thanh's cake packaging machine is made of quality materials, ensuring it does not affect the health of the workers at the machine. On the other hand, the part in contact with the raw materials of the cake packaging machine is made of stainless steel, ensuring food hygiene and safety.
The components of the machine are completely new and imported directly from: Germany, Taiwan and Japan, ensuring top quality.
The parts of the cake packaging machine made in An Thanh are fabricated on CNC machine with high precision. The machine can run continuously, smoothly, stably and can be adjusted according to the user's requirements.
An Thanh cake packaging machine adopts foreign production technology, the machine can reduce product cracks, create durability for the finished product and minimize the failure rate.
Compact design, can flexibly move to meet any situation. At the same time, the cake packaging machine uses 220v-50hz power source – This is a popular power source, so it makes it easy for manufacturers to install and use the machine.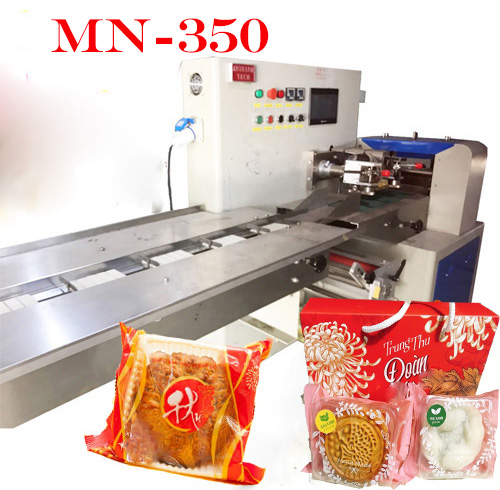 What are specification of Cake Packaging Machine?
Specification
Materials
Origins
Further Note
All of the frameset and parts contacts with materials are made of stainless steel 304 for food safety and hygiene.
Stainless steel
An Thanh Company
Details of machine are manufactured by CNC with high accuracy.
An Thanh Company
Operated by 2 synchronous motors on 2 PANASONIC inverters
Germany
All components are 100% brand new
Touch screeen
Taiwan
Adjust the length of the package by touchscreen WEINVIEW
Taiwan
Relay interrupts Carlogavazzi
Italia
Sensor Autoro.
Taiwan
Main Motor.
Taiwan
Packaging materials: cake
Film width: 100-250mm
Product length: 50-130mm
Pressed package type: middle abdomen compression
An Thanh Company
Design of abdominal line: 1mm stripe
Design of two-way pressed lines: 1.5mm thick straight stripes
Type of cutting blade: Serrated knife to cut bags
Productivity: 60-180 products / minute. Depending on the operation intend of the user.
Power Capacity: 1.8 kw / h.
Power supply: 220v / 50hz
Machine size: (D4000 x R900 x C1500) mm
Machine weight: 700kg
Origins of Machine
See more product here.
Experiment with us by contacting our technical team.