Product Information Satay Packaging Machine
Satay packaging machine is a filter packaging machine, used in high-end food production facilities to produce products such as satay, sauces.
What is satay packaging machine?
Today's instant food is an indispensable part of everyday life such as instant noodles, instant noodles … In but this real package, there are always small ingredients such as satay, sauce.
To have compact and beautiful satay wraps to put into these instant food packages, a process of packaging it must be done. Satay packaging machine is an ingredient that helps to complete these satay wraps.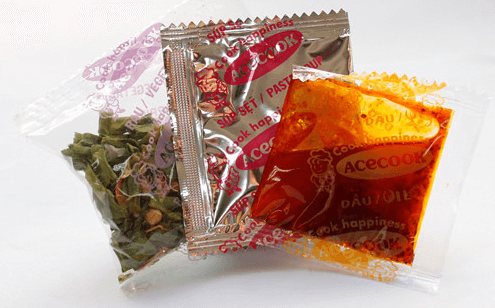 The process of operation of the satay packaging machine
Satay is mixed and brought through the spout.
Satay packaging machine is in charge of pouring satay into wrap, cut wrap and repackage.
What is important in this is the question of how to quantify each time the correct amount of weight is put into the sac.
With the satay packaging machine manufactured by An Thanh we programmed a quantitative mode to help the process of putting raw materials into the correct wrapping.
Features of the satay packaging machine
Satay packaging machine is fully set up automatically the packaging stages and intelligently controlled by PLC Taiwan Delta.
The machine intelligently controls and dual temperature horizontal and vertical pocket.
The machine has high precision, minimizes finished products, automatically turns off the machine when it fails.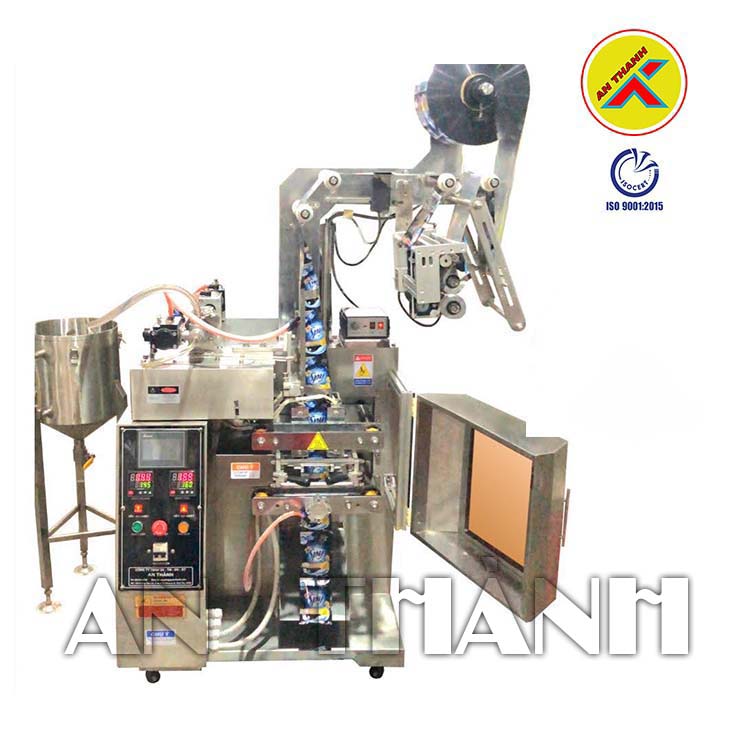 Satay packaging machine is designed to be simple, easy to operate, install, and maintain.
Power source satay packaging machine: 220V-50Hz (Standard power source so easy to use).
The saturated material dosing machine with a metering pump system.
An Thanh satay packaging machine – Fast, standard, quality
An Thanh Technical Service Trading Company Limited is a company specializing in manufacturing and supplying the leading packaging machines in Vietnam. An Thanh satay packaging machine is appreciated by many outstanding features such as:
An Thanh satay packaging machine is designed and installed simply and compactly to save space for businesses.
An Thanh's satay packaging machine is manufactured with materials that are safe for the health of the operator. In particular, the part in contact with stainless steel raw materials ensures food hygiene and safety.
All machine parts are manufactured on CNC machine with high precision, fast and standard.
An Thanh Company manufactures satay packaging machines with all control components imported directly from: Taiwan, Japan, Germany, … ensuring quality and reasonable prices.
Satay packaging machine components are completely new 100%, bright, beautiful and ensure the longevity of the machine.
See more products here.