Product Information Plastic Packaging Machine
Plastic packaging machine is the common name of automatic packaging machines using plastic bags. They help the production process of companies save time and improve labor productivity.
Why should businesses use plastic packaging machines in production?
With the need to develop and integrate into the world economy today, automation in the production process is no longer unfamiliar with large enterprises in general and private sector in particular, what makes the manufacturing – packaging machine manufacture was born massively?
Understand the essential needs, understand the advantages of using automatic packaging machines, An Thanh packaging machine sends the best products to businesses PLASTIC PACKAGING MACHINE, in order to supply customers to pack plastic products. shaped and diversified in designs like plastic apricot flowers. etc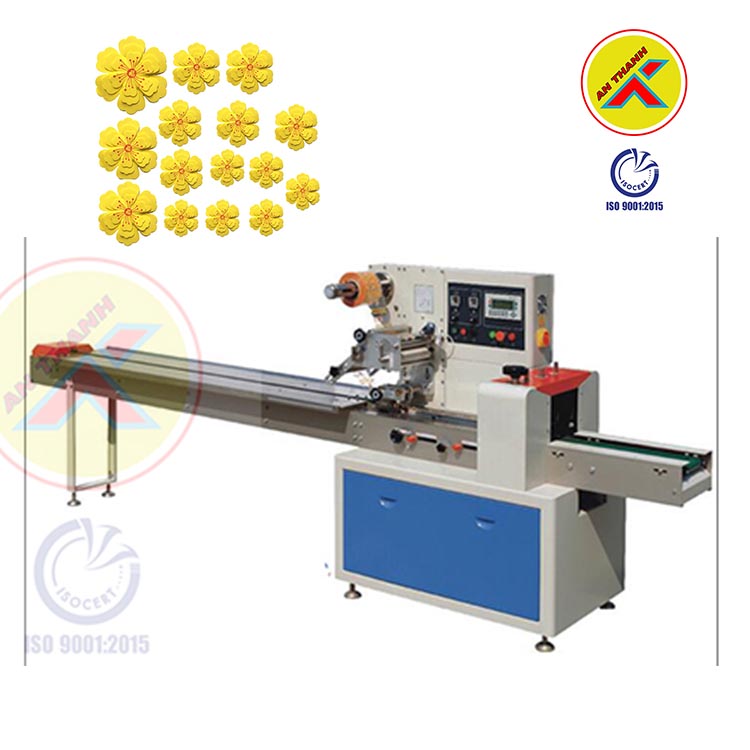 Benefits of using plastic packaging machines
The plastic packaging machine saves labor costs when you use the automatic packaging machine that applies to the production process, the advantages of the packaging machine are simple, easy to control and pack the finished product quickly. fast. All processes from raw material to packaging are automated.
The plastic packaging machine is not difficult to manage people, the productivity is highly efficient compared to the manual process.
The closed packaging process should ensure the quality, safety, and hygiene of food and packaged properly.
The automatic packaging machine has high productivity compared to the manual process. Many large firms have invested in automated equipment rather than people. They choose automatic packaging machines as the safe solution to increase product competitiveness in the market.
Advantages of plastic packaging machines
Raw materials are made of stainless steel 304, hygienic, ensuring food safety when packaging.
The details are manufactured on CNC machines with high precision in each detail.
Manufacturing and assembling equipment according to international standards
PLC controller for high accuracy, fast and effective, minimizing defective products.
What are speficiation of Plastic Packaging Machine?
Technical specifications
Material
Origin
The whole part in contact with the material is made of stainless steel 304, does not rust.
Inox 304
An Thanh
The machine details are fabricated on automatic CNC machines with high precision.
An Thanh
Operated by 2 synchronous motors on 2 PANASONIC inverters
Japan
WEINVIEW touch screen
Taiwan
Adjust the package length using the WEINVIEW touch screen
Taiwan
Sensor Autoro.
Taiwan
Main motor.
Taiwan
Packing products: SHAREHOLDERS, shaped plastic, hanger …
Bag width: <450mm
Bag length: 100-230mm
Packing type: squeezing the middle abdomen
An Thanh
Shape pressed belly: 1mm checkered stripes

Style of crushed lines: straight stripes create waves

An Thanh
Knife type: serrated knife
An Thanh
Productivity: 40 -90 products / minute. Depending on user actions.
An Thanh
Electric power: 2 kw/ h.
An Thanh
Power supply: 220v / 50hz
An Thanh
Machine size: (D4000 x R900 x C1500) mm
An Thanh
Machine weight: 600kg
An Thanh
Origin
An Thanh
Note: All components are 100% brand new
The automatic process saves production time.
Plastic packaging machine in An Thanh has the principle of smooth, stable, no-noise operation and ensures the quality of finished products for manufacturers
Why should choose plastic packaging machine from An Thanh
The packaging machine market currently has a lot of suppliers imported from the country. The needs of customers in this market are also quite diverse and it is important that the product meets the financial capacity, installation space and expected productivity.
Facing the strict requirements of the market, An Thanh Packaging Machine Company always finds a specific direction to suit the needs of customers.
Our engineer team is always searching for new lines of technology, tailored to produce the best plastic packaging machines for customers.
With a high-class warranty, An Thanh is proud to always accompany customers in the process of using the machine.
See more product here.
Experiment with us by contacting our technical team.